They call him Moparo.
In 1997, Mauro Brocca began operating PCR as a part time business out of his two car garage, while working as an engineer in the plastics industry for twenty years. Mauro had been a muscle car enthusiast for many years – since he was a young teenager. He maintained a special interest and love of Mopars.
Mauro's passion, dedication, and commitment meant that his sideline work flourished, as word spread about the quality of his work. Performance Car Restorations has now grown to a full time business out of a two thousand square foot shop.
He has remained passionate, dedicated and committed to the preservation of unique vehicles.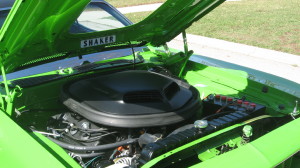 Mauro's ability to pay attention to detail has allowed him to achieve the coveted gold level certification on multiple vehicles. Mauro's meticulous work has also won him best restored awards, top ten awards, and multiple class winner awards. Some of Mauro's achievements have been displayed in various magazines including Mopar Action, Mopar Muscle, Canadian Classics, and Hot Rod Magazine.
At Performance Car Restorations, Mauro strives to offer the utmost in personalized service for all your restoration needs. Mauro has developed a reputation in the car industry and always strives to maintain this through his high quality of work.
Give Performance Car Restorations a call for your vehicle restoration needs.
You'll be in very capable hands.
Why Choose Performance Car Restorations
Mauro is dedicated to and capable of providing you with the highest level of quality restoration your car deserves.
Personalized service done only by 'Moparo' himself.
Experienced, knowledgeable, award winning restorer.
Restorations that can meet factory specifications.
Special interest and expertise in Mopars.
Top quality original or reproduction parts used.
Affiliated with a network of experts.
Open, constant communication maintained to ensure customer satisfaction.
Work within your time line.
Billing at competitive rates.